Skip to Content
Patio Rooms in OKC and Surrounding Areas
Create Sunny Spaces with Sunrooms and Patio Rooms
Soaking up the golden rays of sunlight is part of life's many natural joys; however, when the mid-day sun becomes too much, you may be seeking a shade solution that doesn't involve retreating into your home. Fortunately, homeowners now have a solution that enables them to bring the sun's brilliance into their homes without the afternoon heat's intensity by adding a new patio room custom-built by the experts at Southwest Builders.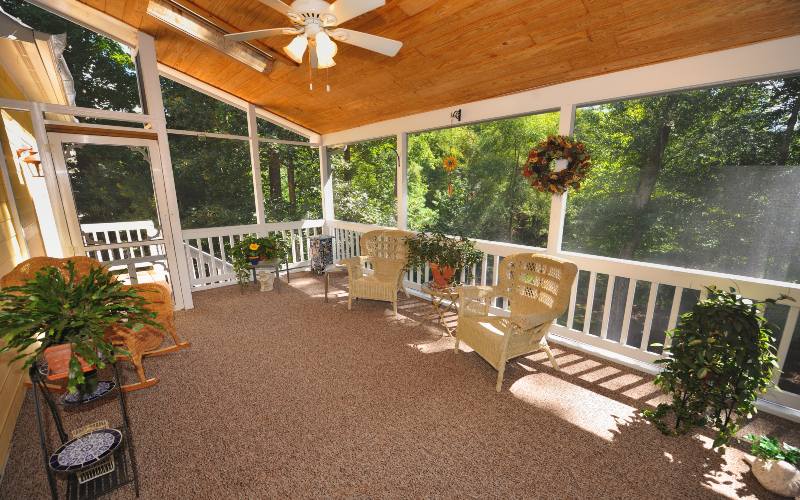 Top-of-the-Line Sunrooms in OKC
Sunrooms by Southwest Builders are the ultimate remodeling solution. They bring excellent value, offering full insulation of the roof, walls, and windows to create the perfect four-season living space. Southwest Builders can build on your existing slab or have our concrete crews pour a new slab and build under an existing roof or add a new one at your discretion.
Furthermore, we offer an array of options to customize your new sunroom, including various designs, sizes, and materials. Additionally, we can add features that amplify the function of the sunroom, including windows, doors, electrical components, and even an HVAC system. When it comes to your new patio, you're in complete control; our job is to bring your vision to life.
Patio Enclosures from a Leading Brand
Whether your sunroom is designed to be of seasonal use or you're looking for an addition to enjoy year-round, Southwest Builders offers exclusive patio enclosure solutions that enhance the convenience of your newest remodel. Our patio enclosures combine durability, aesthetic value, and practicality to suit your unique preferences and lifestyle.
Styles and Features
When it comes to sunrooms and patio covers, we understand that every homeowner's needs are unique. That's why we offer solutions to accommodate a range of style preferences. We offer stationary covers that are permanent fixtures mounted directly to your home. Stationary patio covers are supported by powder-coated aluminum posts that provide extended resilience, withstanding even the most unfavorable weather conditions.
You may also choose to add patented glass roof panels or a skylight for maximum natural light that brightens your space, and removable solar shades that give you full control of the lighting in your sunroom. Furthermore, we can tailor the details, such as doors, windows, and electrical units, to satisfy your entertainment needs and style aspirations.
The Advantages of Patio Enclosures by Southwest Builders
As leaders in our industry, Southwest Builders takes great pride in offering patio enclosures that come packed with benefits. Our builds are designed to last; built with aluminum frames and durable hardware, they offer extended longevity.
Our customizable style options also offer a low-maintenance alternative to other companies, as we use easy-to-clean and minimal maintenance materials and finishes that prohibit you from having to tend to your patio enclosure frequently. Our patio covers are also energy-efficient, helping to lower your energy costs and keep your home comfortable.
Transform Your Outdoor Space with Our Patio Rooms
At Southwest Builders, we believe in offering our clients the best possible service and experience. If you're looking for a top-of-the-line sunroom or patio enclosure in the OKC area, Southwest Builders is here to help. With years of experience and a commitment to quality, we are the trusted choice for all your sunroom and patio enclosure needs. Contact us today to schedule a consultation, and let's discuss how we can enhance the beauty and function of your home.
Contact Us to Discuss Our Financing Options