Skip to Content
Roofing Services in OKC and Surrounding Areas
Trustworthy Roofing Solutions for Your Home or Business
At Southwest Builders, we take great pride in providing exceptional roofing services to both commercial and residential clients. As your Oklahoma roofing contractor of choice, we understand the importance of a solid roof and the role it plays in keeping your property protected. With our commitment to quality roofing services, you can trust us to get the job done right the first time.
Comprehensive Roofing Solutions for Your Property
At Southwest Builders, we offer a range of roofing solutions to meet the needs of both residential and commercial clients. Here are some of the roofing solutions we provide: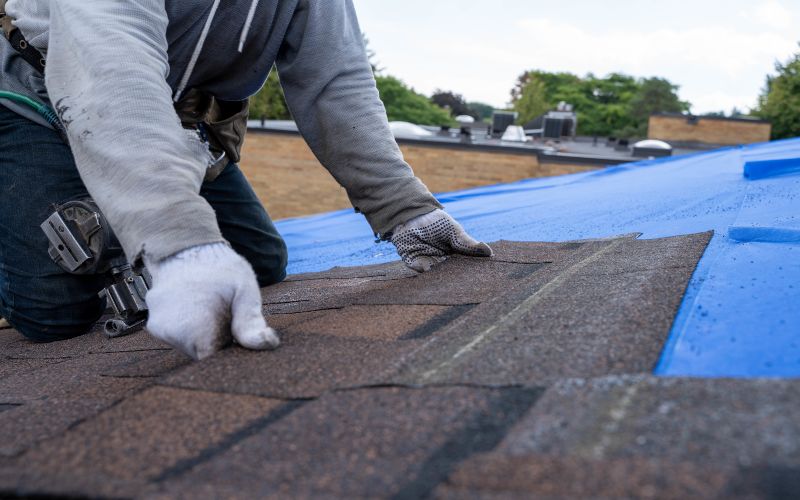 Roofing Installation Services – We offer expert roofing installation services that are tailored to the specific needs of your property. Our team of professionals will work with you to determine the best roofing materials and design for your property and provide you with a detailed quote and timeline for the installation.
Roofing Maintenance Services – Regular maintenance is key to ensuring the longevity and effectiveness of your roof. We offer comprehensive roofing maintenance services that include inspections, cleaning, and repairs to keep your roof in top condition.
Roofing Repairs – When your roof needs repairs, we provide timely and efficient repair services to ensure that your roof is functioning properly and can protect your property. We conduct a thorough inspection to identify the issue, provide a detailed quote, and perform high-quality repairs using the best materials available.
Roof Replacement – If your roof is beyond repair or nearing the end of its lifespan, we offer expert roof replacement services. We work with you to determine the best roofing materials and design for your property and provide you with a detailed quote and timeline for the replacement.
Emergency Roofing Services – Nobody wants to deal with a roofing emergency, but they can happen anywhere at any time. Our emergency roofing services can ensure that your property is remains protected when you need it most.
Timely and Efficient Roof Repair Services
At Southwest Builders, we offer a comprehensive roof repair process that includes the following:
Thorough Inspection – We begin by conducting a thorough inspection of your roof to identify any issues that need to be addressed. This includes checking for leaks, damage to the shingles, and any signs of wear and tear.
Detailed Quote – Once we've identified the issues with your roof, we provide you with a detailed quote that outlines the scope of the repairs needed and the estimated timeline for completion.
High-Quality Materials – We always use high quality materials for our roof repairs, ensuring that your roof will be durable and long-lasting.
Professional Repair Work – Our team of professionals is highly skilled in roof repairs and will work quickly and efficiently to get your roof back in top condition.
Timely Completion – We understand the importance of timely repairs, so we work diligently to complete the repairs as quickly as possible while ensuring that the work is done to the highest standards.
Follow-Up Inspection – After the repairs are completed, we conduct a follow-up inspection to ensure that everything is in proper working order and that there are no additional issues that need to be addressed.
Customer-Focused Roofing Services You Can Depend On
We believe that exceptional customer service is just as important as high-quality roofing services. Our team of professionals is committed to providing you with the best possible experience from start to finish. We work alongside our customers to understand their needs and provide them with customized solutions that exceed their expectations. You can count on us for reliable and trustworthy service every time.
Get in Touch for Expert Roofing Services Today
If you need roofing services in OKC and surrounding areas, you can contact us today. We offer free consultations to help you assess your roofing needs and determine the best course of action. Our team of experts is standing by to provide you with the highest quality roofing services in Oklahoma.
Contact Us to Discuss Our Financing Options