Skip to Content
Oklahoma's Screen Room Experts
You can blend indoor comfort with scenic outdoor pleasure by adding a screened porch or screen room to your home. Southwest Builders offers design and building services for screen rooms throughout the state of Oklahoma. With a screen room, the insects stay outside while you enjoy the cool breeze and the shade and protection from the elements with your new screen room. The beautiful Oklahoma spring and summer weather is accessible with the comfort of an enclosed space and outdoor haven. We are experts in creating high-quality, long-lasting screen rooms and screened porches built to withstand the Oklahoma sun and inclement weather. Your family will enjoy this extension of your home space for many seasons to come.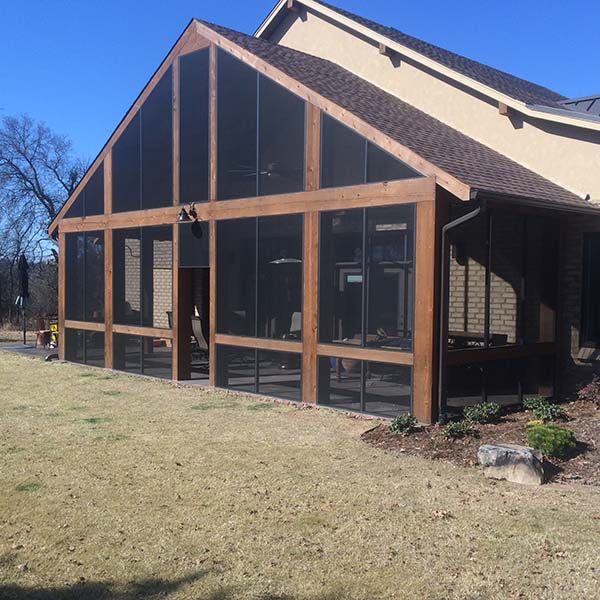 Benefits of Adding a Screen Room to Your Home
Southwest Builders proudly offers screen rooms and screened porches to clients. We handle every project with a commitment to quality materials and workmanship to ensure each new screen room looks fantastic and lasts for years with dependable protection from the elements. Some other notable benefits of a screen room include the following:
Protection Against Insects
A screen room keeps bugs away from your family without using candles, chemicals, or fly swatters. The screens can also help filter out pollen, dust, mold spores, and other airborne irritants while protecting you against the wind, rain, and sun glare.
Better Privacy
Screen rooms may be easy to see out of while you're relaxing, but they are difficult to see into during the day. This additional level of privacy is an easy solution to nosy neighbors and passersby.
Adaptability
You don't have to decide between a sunroom and screen enclosure. These outdoor living spaces are easily convertible to sunrooms if you choose to do so in the future. You can change the screens to high-performance windows and enjoy scenic views year-round.
Affordability
A screen room is very affordable when comparing it to a full room or sunroom addition. We don't need to extend your HVAC system beyond its current capacity, and you can retrofit your existing patio or porch for a cost-effective living space enhancement.
Increased Home Value
Screen enclosures have become a popular addition to homes in the area, so you can increase your property's value by investing in a screen room. Your return on investment is the highest of any home improvement project, including kitchen or bathroom remodels and updated siding.
Trust Southwest Builders With Home Improvement
Let Southwest Builders enhance your residential space with a quality-built screen room or screened porch. You can enjoy the outdoors without dealing with insects, blazing sunlight, or rain.
Contact Us to Discuss Our Financing Options