Skip to Content
About Metal Barns in Oklahoma City, OK
Professional Constructors of Prefab Metal Barns
When searching for a versatile and durable structure for your storage or agricultural needs, look no further than Southwest Builders and our high-quality prefabricated metal barns. With an expansive selection, our resilient, customizable metal barn designs are equipped to seamlessly accommodate the varying needs of our Oklahoma City, OK customers.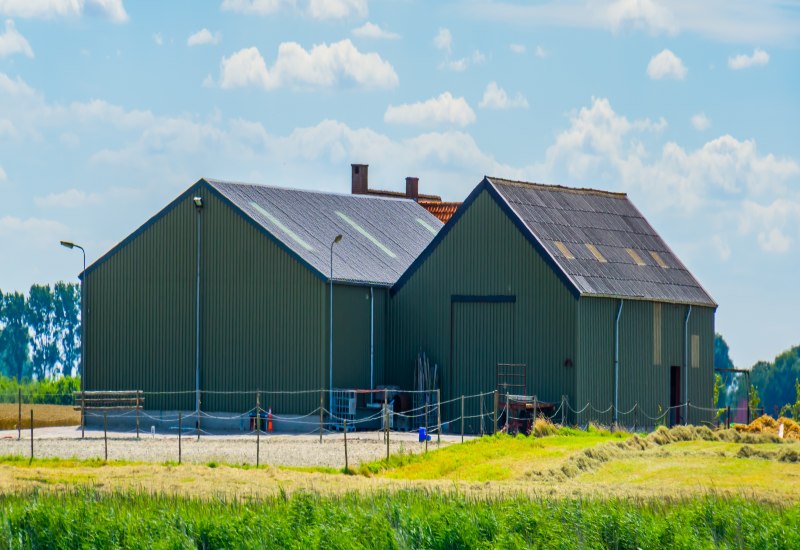 Metal Barn Applications
Metal barns can be used in an array of agricultural applications, including the following:
Hay storage
Workshop area
Livestock housing
Agricultural storage
Equipment and machinery storage
Agricultural Storage
Metal barns are excellent agricultural additions. They can be used as farming storage solutions, holding various types of machinery, equipment, and more, ensuring your agricultural materials remain protected from the elements. Furthermore, they can be used to shelter hay and feed from the elements and other animals.
Livestock Housing
With many different designs and sizes of metal barns available, these buildings can be used as reliable livestock housing for your farm. Metal barns and buildings serve as protective, safe, and comfortable shelters for various animals, providing peace of mind knowing your livestock is secure.
Workshop Area
Metal barns can be customized with additional features and design modifications to enable you to create a durable workshop area on your property. Metal barns can serve as convenient maintenance spaces to work on farm vehicles and machinery or workshops to repair smaller-scale projects, depending on your needs.
Versatile Design to Suit Your Needs
Southwest Builders offers only the best metal barns to our Oklahoma City, OK customers, ensuring they have access to the highest-quality features and customization options that permit them to curate functional and accommodating metal barns and buildings that suit their storage and operational needs.
The Benefits of Metal Barns and Buildings
Metal barns and buildings by Southwest Builders boast a multitude of advantages that enhance your agricultural practices, including the following:
Cost-effective
Pest-resistant
Enhanced durability
Prompt construction
High-quality materials
Minimal maintenance demands
Fire-resistant for increased safety
Longer lifespan than traditional barns
Ability to withstand inclement weather
Metal Barn Construction Process
At Southwest Builders, we lead with the satisfaction and safety of our customers at the forefront of our services. As such, we ensure a comprehensive and meticulous metal barn construction process that includes careful preparation, planning, and execution to foster unrivaled results that withstand the test of time, ensuring our customers receive the highest quality results.
Site Preparation
Our metal barn construction process begins with preparation measures to ensure the area of the metal barn is ready to accommodate the new structure. This process includes clearing the location, leveling the ground, and addressing areas of concern as needed to promote stability and long-lasting results upon installation of the prefab metal barn.
Prefab Metal Barn Construction
Once our professionals feel confident with the site preparation, we move on to the assembly of the metal barn. This process entails the most durable and structurally sound equipment and components we use to erect the framing and secure the materials to curate a seamless finished product.
Rely On Southwest Builders for Metal Barns
Southwest Builders is the trusted provider of Oklahoma City's premium metal barns. Combining years of time-honored experience with our careful attention to detail and passion for delivering nothing short of excellence, we have secured our reputation as industry-leading metal barn providers, redefining durability and versatility with exceptional results that offer extended longevity.
Speak With Our Metal Barn Experts
Discover how your property can become the most efficient with the help of Southwest Builders and our customizable, high-performing metal barns and buildings. Contact our friendly team of experts to discuss your needs and learn more about our prefab metal barns and the available options.
Contact Us to Discuss Our Financing Options