Skip to Content
Window Installation in OKC and Surrounding Areas
Industry-Leading Window Services
The value your home's windows provide is often overlooked. Windows serve as the eyes of your home, and when they are in optimal condition, they enhance curb appeal, promote natural sunlight, and contribute to your comfort.
At Southwest Builders, we understand how essential it is to have high-quality windows in your home. That's why we extend our expertise toward helping homeowners in OKC and surrounding areas benefit from high-performance windows with our industry-leading window installation services.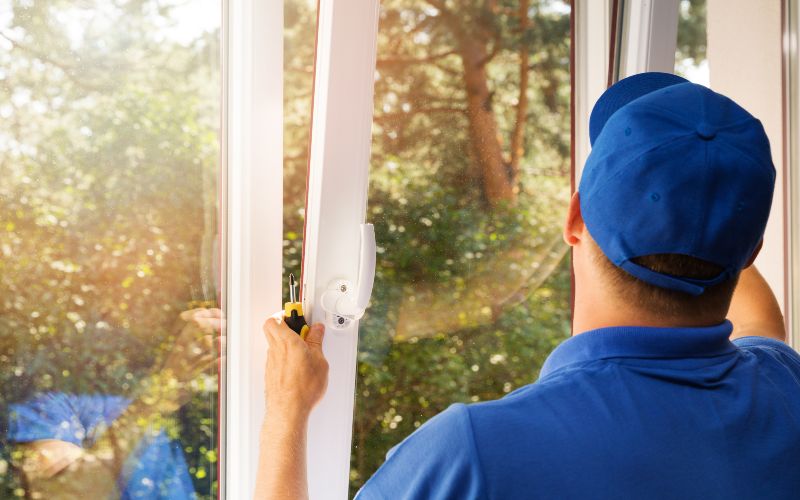 OKC's Trusted Window Installation Contractor
Our window installation services combine quality materials with pristine installation to provide our customers with efficient windows that will perform to industry standards for years to come. Our experienced technicians are well-versed in all aspects of window installation, including new installation, replacement projects, and full-home remodels.
We combine your aesthetic vision and unique needs with our industry knowledge and know-how to create a final result that compliments the style of your home while providing added security, energy efficiency, and total customer satisfaction.
Our Window Installation Process
Our window installation process is a comprehensive service that checks all the boxes. We strive to make your time with us as hassle-free as possible by handling every aspect of the job, such as:
Inspections, assessments, and measurements
Removing and replacing old windows
Installing new windows
Sealing and waterproofing your new or replaced windows
Clean up and removal of debris accumulated during the service
Adjustments and quality testing upon completion
A final walkthrough and inspection with the homeowner to ensure complete satisfaction
Window Manufacturers
Choosing a quality manufacturer is the backbone of a successful window installation service. At Southwest Builders, we offer our clients only the most reputable window selection on the market. We partner with leading window manufacturers that supply a vast array of styles, colors, and sizes to satisfy your aesthetic preferences without compromising on quality.
Window Types
The type of window you decide on will greatly impact the look and feel of your home. There are various styles and materials to choose from, as well as customizable variables, such as the number of panes, the hinge type, how they open, and the amount of ventilation they offer. At Southwest Builders, we offer a wide selection, including the following:
Awning Windows: These windows are hinged at the top and operate by opening outward. They offer adequate ventilation and are frequently used in combination with other window types, such as casement windows, for added ventilation.
Casement Windows: These windows have side hinges, opening outward with the ability to allow maximum ventilation in your home while offering a contemporary appeal.
Double-Hung Windows: These classic windows include two sashes that can be maneuvered up and down to open and close the window.
Single-Hung Windows: Similar to a double-hung, a single-hung window includes a single sash used to open the window, which is typically located at the bottom of the unit.
Sliding Windows: These windows include two sashes that can be slid horizontally to open or close the window. They allow maximum natural light and excellent ventilation.
Custom Window Replacement: For homes with unconventional openings, Southwest Builders offers custom window replacements crafted uniquely for your home.
Bay or Bow Windows: Bay or bow windows project outward from the wall, adding a panoramic view of the outdoors and permitting plenty of natural lighting.
Special Shape Windows: For homeowners looking for a unique addition, Southwest Builders offers an array of special window shapes, such as triangular, circular, or hexagonal windows.
Choose Replacement Windows and Transform Your Space!
Choosing to replace your old, drafty windows can revamp the function and beauty of your home. The only thing better than a new window installation is a new window installation done by the leading experts at Southwest Builders. Experience the Southwest difference with gorgeous new windows that enhance your home's energy efficiency, security, and appeal without breaking your budget. Contact our friendly professionals today to schedule your complimentary window assessment, and let's discuss your window aspirations!
Contact Us to Discuss Our Financing Options