Skip to Content
Six Reasons You Want a Sunroom This Season
Sunshine is a magical thing: it thaws the frost, helps flowers bloom, and has animals and people alike crawling from their winter dens. While it's beautiful, Oklahoma residents know that it's not always ideal:  sunburns, bugs, extreme heat.  While a covered patio allows you to enjoy the sun without being totally at risk for a third-degree burn, it doesn't do much for the stifling heat Oklahoma is known for. Instead of trying to brave the weather, why not add a sunroom to your home? Sunrooms are the perfect way to enjoy the sun without the Oklahoma heat; just imagine enjoying the sunlight without watching your skin redden and peel! Here are the top six reasons you'll want to add a sunroom to your home before the summer season (and sun!) arrives.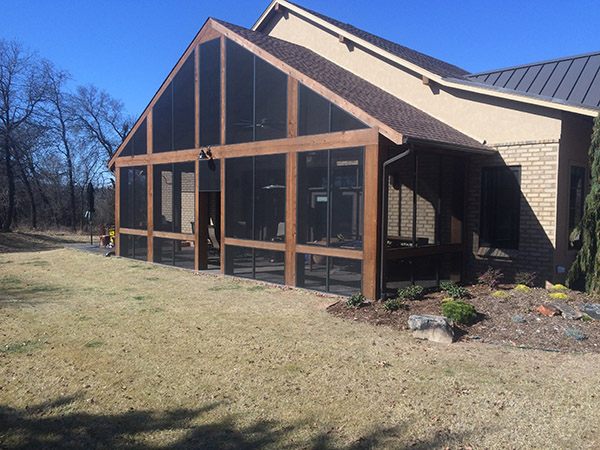 Experience the Outdoors in a Whole New Way
As previously mentioned, sunrooms are great because they allow you to experience the sunshine that you know and love without having to worry about sunscreen or bug repellent. Even if it is cold outside, you can still immerse yourself in the sun's rays under the comfort of your sunroom. Not only that, but think of all of the possibilities in your décor and furniture if you don't have to worry about the outside elements. Do you enjoy carpet floors? Go for it! Do you love the feel of velvet sofas? Yep, you can have them! Instead of hauling your furniture in and out of the harsh sun to protect those cushions that really create your outside space, utilize a sunroom! If you need help convincing the Mr. of the household—just think about watching the Superbowl and grilling burgers at the same time!
Versatile
The great thing about a sunroom is that, according to the name, all you are required to have in it is the sun. Besides that, only your imagination stands in the way. Do you need extra space for entertaining? Maybe you want a quiet reading spot, or somewhere safe for the kids to play? All of those times as a kid that you dreamed of coloring outside the lines have arrived: any paint, flooring, furniture, or décor leaves you with limitless options for your sunroom.\
Easy to Install
The majority of sunrooms are installed by professionals, which makes them very easy on your part. However, if you are the do-it-yourself type of person, they can still be easy. In fact, you can purchase ready-made kits that you simply have to put together over a wood deck. Of course, if you don't have a wood deck, you may need to invest in that first.
If you want to take the road less traveled and build a sunroom completely from scratch, you need to channel your inner contractor. First, consider which way your room will face: southern exposure, for instance, gives you the greatest amount of natural light during the day. You also need to carefully consider your materials. Double-pane windows are a smart choice for energy efficiency, as they let light in without letting your cool air out! If you're uncertain where to begin, contact a local professional for a few ideas and helpful tips!
Increase Your Home's Value
Anytime you add square footage to your home, you're making your home more attractive to potential buyers. If done the right way, a sunroom will also increase your curb appeal—now that's a bright idea! According to The National Association of the Remodeling Industry, you can expect to receive back 49% of your initial investment when it comes time to sell your home. Be sure to choose the best quality materials to get the highest return on your investment. Even if you aren't anticipating leaving anytime soon, the extra room in your house can be something you never knew you needed!
Savings!
A sunroom is a gift that just keeps on giving! Not only is it less expensive than its traditional add-on counterpart (and is usually a lot quicker, too), it can also save you money on your bills every month. The large quantities of natural sunlight that the room will provide will allow you to leave the lights off during the majority of the day, and the natural heat from the sun will prevent you from having to crank the heater up in a typical Oklahoma winter. Again, the energy efficiency of your sunroom is greatly determined by the quality of materials used, so keep that in mind when designing your space.
Create a Getaway
Who knew money really could buy happiness? It has been scientifically proven that natural sunlight can boost your mood—what other reason do you need for a sunroom? Even during the holidays when your in-laws may have you ready to run, simply step into your sunroom for a little time. Let the sunlight boost your mood while you relax in your new favorite space!