Skip to Content
Do Carports Protect Cars — and Help Your Home Retain Value?
You already know the benefits of having a carport – it protects your vehicle from the elements of Mother Nature and provides security for your vehicle from potential theft.
So yes, carports can help protect your car. You already know that.
But can they also help your home retain – and perhaps even increase – its value? The answer is "yes."
How does it increase the value? For starters, consider the fact that the carport you're probably picturing in your mind isn't at all what most designers and builders are constructing these days. No, the days of ugly, unsteady aluminum car housings are in the past. Today, you can have carports that are custom made in the size, shape, and location that you so desire. This makes them even easier to integrate into the overall design of the home to serve more as a complementary feature and not some eyesore where you park your vehicle.
How Much Value Does a Carport Add to Your Home?
It's difficult to be precise, a range of $500-$10,000 is realistic. Added value will depend on where your carport is located on the property, materials used, and the demand for a carport in the area of your home. Carports certainly add value and should be an item you consider for home improvements.
In fact, many homeowners are adding carports to their property in addition to an already existing garage. For example, a carport doesn't have to be for just a car, it can be used to protect large items like boats.   Many Oklahomans go to the lake in the summer, and protecting your boat in the winter is crucial for basic upkeep and appearance. Also, carports are a perfect solution for protecting other large items like jet skis, an RV, large lawnmowers, or tractors.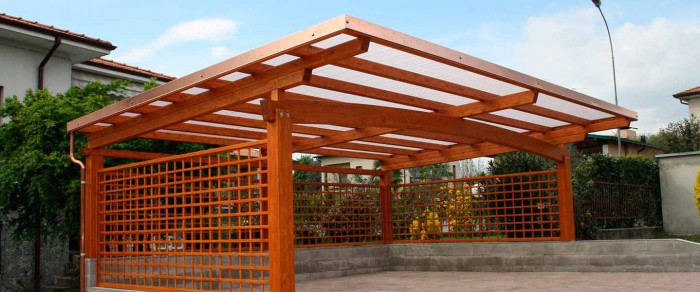 So now that we've covered the "curb appeal" and style elements of a custom carport, it's time to get into some of the other benefits of this home feature. Here's a look:
Shade: During the hot summer months, a carport can also serve as shade for children to play under and adults to relax under. You can even use a carport for a purpose totally different than parking your car under it – as an additional porch or patio. Remember, more homeowners are having carports built on their property in addition to an existing garage.
Convenience: One benefit that many people don't think about when it comes to carports is the convenience factor. Picture this: You're coming home from the store after a grocery shopping run and have bags galore that you're trying to get into the house, all while juggling with your garage door opener. When you park under a carport, all you need to do is exit the vehicle and walk toward your house. An additional bonus to having a carport over a garage is that you'll save on electricity from regularly opening and closing the garage door, as well as maintenance costs to keep all the components running smoothly.
Durability: Like we said in the opening, today's carports aren't your carports of the past. Today's carports are often constructed from heavy duty steel, wood, aluminum and polycarbonate. All these materials have their pros and cons. For instance, aluminum is affordable and rust resistant. Wood helps achieve a rustic look and blends in nicely with most homes. Polycarbonate plastic is heavy duty, lightweight and crack- and split-resistant.
The bottom line is that many people have a preconceived notion when the word "carport" comes up. And it's far from all of the potential styles and uses of carports today. In fact, while carports might not be as attractive a parking area like a garage, they are a much more attractive feature for potential home buyers than having no parking options at all. Others might even prefer the carport over the garage to free up more space in the yard and around the property.
So, can the right carport save your car from theft and the weather? Yes.
And can the right carport also retain – or perhaps, increase – the value of your home? Yes.
Eric Stephens, an Oklahoma native, and Land Rover enthusiast shares his view on why he thinks carports would help save his car. He says," Protecting against the Oklahoma winters is important. Winter here seems to be the worst. Plastic gets cold and can break easily and doors can get frozen shut by the frequent ice storms. He loves his Rover so much he even wired an A/C plug to run heat inside during the winter.
Modern carports are the real deal. Feel like you need some inspiration? View our Pinterest page. For more information on carports and how they can complement your home, contact Southwest Builders today.