Skip to Content
Landscaping Services in OKC and Surrounding Areas
Comprehensive Landscaping Services in OKC
A well-kept property is nice, but a perfectly landscaped property is unrivaled. At Southwest Builders, we offer residential landscaping services that take your property to the next level. With functional features and eye-catching designs, our landscaping services will bring your lawn goals to life and make your home the star of the neighborhood.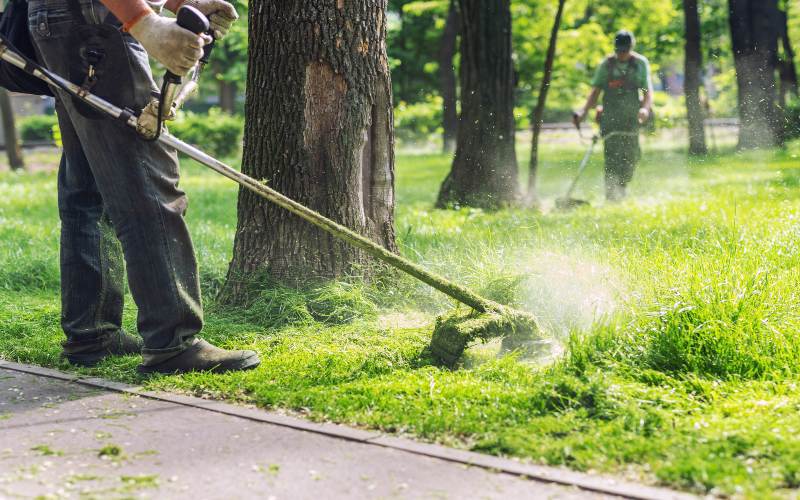 A Space for You and Your Family
No matter the size of your property, investing in professional landscape services is the optimal way of creating a functional space for you and your family to enjoy. Whether you want to enhance the curb appeal of your front yard with lush green grass, vibrant flowers, and well-kept shrubs, or create a visually appealing backyard area to enjoy barbecues with your loved ones, Southwest Builders' residential landscaping services are here for you.
Our Landscaping Services
From designing the layout of your property and determining which type of garden is best for your home to maintaining your picturesque lawn to keep its stunning appearance, Southwest Builders can satisfy all of your residential landscaping needs.
We pride ourselves on our vast array of premier landscaping solutions, such as:
Lawn care and regular maintenance services
Landscaping design and custom builds
Planting trees, shrubs, and flowers
Installing yard ornaments
Snow and ice management
Pest and mosquito repellent solutions
Full-Scale Design & Installation Services
As a full-scale design and landscape installation company, we go above and beyond for our clients, offering more than just your traditional quality landscape services. Some of our advanced services include the following:
Outdoor kitchen design and construction
Patio cover and pergolas installation
Water feature installation
Sunrooms and patio room builds
Fire features and outdoor fire pits
Walkway and pathway installation
Irrigation system installation and drainage solutions
Outdoor lighting
Holiday lighting and decoration installation
Landscaping Designs
Your home should be a representation of your personal style. That's why at Southwest Builders, we offer an array of design options to help you achieve the landscaping appearance that best suits your taste. We offer our expertise to bring an impressive range of design ideas to life, such as a Tuscan-style yard with terracotta tiles, plenty of wood elements, and herbs, or a country feel with wildflowers, lush greens, and traditional lawn ornaments.
Safe, Reliable, Trustworthy-Landscaping Services
When you choose Southwest Builders for your landscaping needs, you're choosing a company that prioritizes your vision and preferences. We work alongside our clients to fully understand their landscaping aspirations in order to create a tailor-made plan that exceeds their expectations.
The trust of our loyal customers is at the forefront of all the services we provide. Therefore, each of our landscaping solutions is carried out with the utmost professionalism and attention to detail, ensuring your property is safe, secure, and in well-manicured condition year-round.
Transform Your Home with Quality Landscaping Services
Get the most out of your property by pursuing quality landscaping services with Southwest Builders that turn your yard into a functional oasis, packed with color and personality. Contact our friendly team of landscaping professionals today to schedule your complimentary consultation, and let's begin your lawn transformation!
Contact Us to Discuss Our Financing Options