Skip to Content
Outdoor Living Spaces in OKC and Surrounding Areas
Outdoor Living Ideas and Designs for Your Perfect Backyard
Outdoor living spaces can be just as important as indoor spaces. Here at Southwest Builders, we specialize in creating premier outdoor living areas in OKC and surrounding areas that will enhance your home's beauty and functionality. Our team of experienced professionals is committed to transforming your backyard into a place where you can relax and enjoy time with family and friends. Learn more about our outdoor remodeling services and get some ideas for outdoor living designs that will turn your backyard into a beautiful oasis, then contact us to get started!
Outdoor Remodeling Services
At Southwest Builders, we offer a range of outdoor remodeling services to help you create the perfect outdoor living space. Whether you're looking to add a new patio, deck, or outdoor kitchen, we have the experience and expertise to make your vision a reality. Our services include:
Pergolas
Pergolas can be great additions to backyards. They offer privacy and shade while adding an elegant touch to your outdoor living space. Our team can design and build a custom pergola that will complement your home's architecture and enhance your outdoor living area.
Outdoor Kitchen
If you enjoy cooking and entertaining, an outdoor kitchen is a must-have. Our team can create a custom outdoor kitchen that will allow you to cook and entertain guests in style. We always use high quality materials to ensure that your outdoor kitchen will stand up to the elements and last for many years.
Patios
A patio is an essential part of any outdoor living space. It provides a place to relax, dine, and entertain guests. We can design and install a custom patio that will meet your specific needs and complement your home's style. From stamped concrete to natural stone, we offer a variety of materials to create a beautiful and functional patio.
Decks
A deck is a perfect addition to any backyard. It creates a versatile outdoor living space that can be used for everything from barbecuing to sunbathing. We can design and build a custom deck that will meet your specific needs and enhance your backyard's beauty.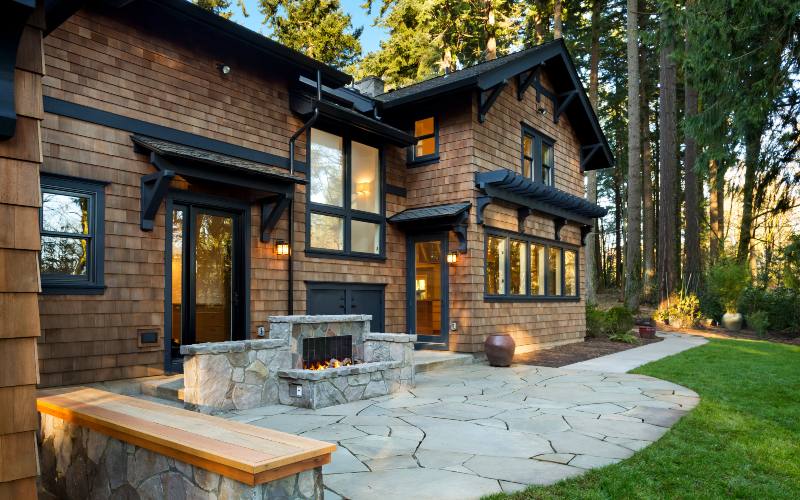 Outdoor Living Ideas
Looking for some outdoor living ideas to inspire you? We have worked with a variety of outdoor spaces and know how to make the best use of whatever space is available. Here are a few of our favorite ideas:
Create an outdoor living room by adding comfortable seating, a rug, and a coffee table.
Install an outdoor fireplace or firepit to create a cozy gathering spot.
Add a water feature, such as a fountain or waterfall, to create a peaceful ambiance.
Create a dining area with a table and chairs and add some string lights for a festive touch.
Install a pergola or awning to provide shade and privacy.
Outdoor Living Designs
At Southwest Builders, we believe that outdoor living designs should be both beautiful and functional. We work alongside our clients to create custom designs that meet their specific needs and enhance their home's beauty while making great use of the available space. Whether you're looking for a simple patio or a complete outdoor living space, we have the experience and expertise to make it happen.
A Beautiful Backyard Is Waiting for You!
At Southwest Builders, we're passionate about creating beautiful outdoor living spaces that our clients can enjoy for years to come. Our team of experts is dedicated to providing the highest quality craftsmanship and customer service, so you can feel confident throughout the entire design and construction process. Contact us today to schedule a consultation and start creating the backyard of your dreams.
Contact Us to Discuss Our Financing Options